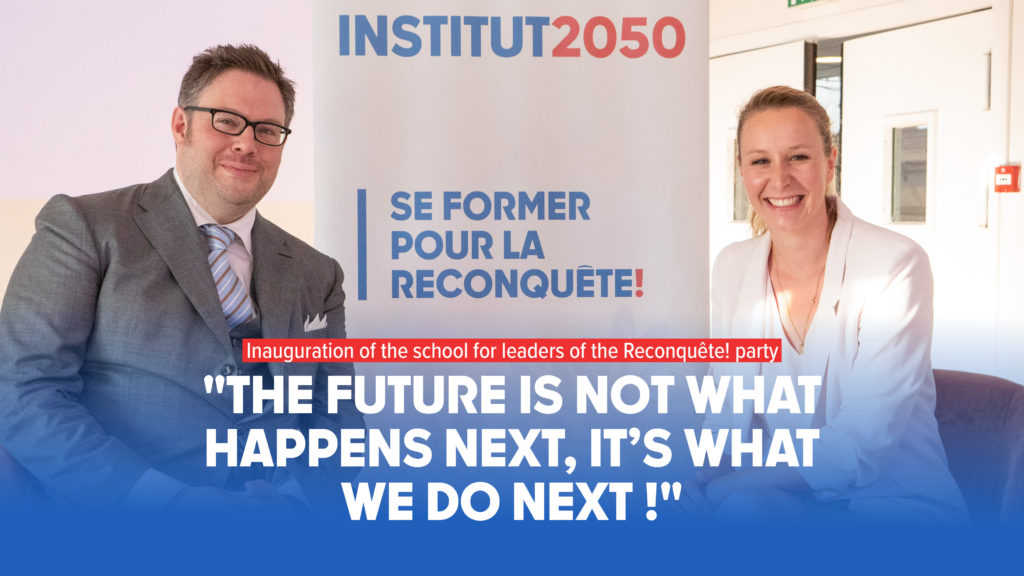 On this 23 June 2023, I am proud, five years after the creation of ISSEP and its 500 students, to be creating my second school, this time in the service of a party, Reconquête!.
It's no coincidence, and I'd even go so far as to say that it's consubstantial with our political vocation: there is no electoral victory without an ideological victory, no national reconstruction without an intellectual refoundation, no change without the emergence of a new, well-trained political elite.
As you can see, this is an important moment in the life of our young movement, and I'd like to thank you all for coming. Thank you to Éric and thank you to Mathieu Bock-Côté, who is honouring us with his presence as an outside guest and who will be sharing his analysis of the right-left divide with us in a few moments.
It's a divide that we see as structuring and decisive, and one that will become increasingly so as identity asserts itself as the new paradigm.
This is what is happening before our very eyes across Europe, where the union of the right is being formed, or reconstituted, around the issue of immigration and identity. Centre-right parties are abandoning their unholy alliances with the left to build coalitions with conservative parties close to our line. Our friends in Italy, Spain, Poland, Hungary, Sweden and Finland are showing us the way to victory. We look forward to working alongside them in the European Parliament next June.
Why set up an executive school ?
For far too long, the right-wing parties have lost interest in this training mission, while the left continued to nurture its young shoots within their student unions.
This neglect had far-reaching consequences. Management schools are traditionally places where young talent is detected and developed. They are the places where doctrine is set and the common ideological base is transmitted.
Unable to renew its men and women, the Right was logically unable to renew its ideas. Even today, outdated software and old habits die hard. Even today, the Right remains entangled in its sanitary cordon and is content, on many issues, to be no more than an alternative left, 20 years behind the times.
The creation of Reconquête! is also a response to this failing. We are determined to bring out a new offer and a new generation on the right.
At a time when the political grouping of Macron's and Edouard Philippe's followers is making a virtue out of a lack of vision, when the LR have been accepting submission to left-wing thinking for forty years, to the despair of their ultimate voters, and when the RN is now backing away from all divisive issues, it is high time, urgent even, faced with the emergence of a new post-national, Islamo-leftist left, to lay the foundations for real right-wing thinking. A vision of the civilisational right, following on from our presidential campaign, which was the first step in winning back hearts and minds.
That's the meaning behind the name we've chosen for our executive school: Institut 2050.
A name that resonates with an objective and a commitment.
The first objective is to have changed the course of politics by 2050, because by that date, in just over 25 years' time, the French could be in the minority in their own country if the insane migration policy we are undergoing is not radically halted. Conjuring up the Great Replacement in progress is the vital and historic challenge that our country must take up, and it's our declared priority.
Secondly, a commitment: Thinking about France in 2050 means building a project for the next generation, not just for the next election.
Our roots are drawn first and foremost from the sources of our French and European heritage.
Even if the zeitgeist gives us the illusion of being free of all ties, we rarely invent, we often inherit. And contrary to what the Left thinks, it is not by pulverising all ties, particularly family and national ones, that we become emancipated, but on the contrary, it is by relying on what we receive from these ties that we can achieve freedom of choice.
The role of politics is to avoid a breakdown in the transmission of knowledge, so that we can make the most of the laws, traditions, sciences, classics and spiritual riches that have gone before us and of which we are the custodians.
Learning from history everything that past experience tells us not to reproduce, learning from literature the invariable human passions, learning from philosophy the depths of existence, learning from geopolitics the permanence of peoples and civilisations, learning from economics the subtle relationship between man and his work, makes the difference between a public affairs manager and a statesman.
This is our ambition for our managers. To help them forge a vision capable of distinguishing reality from lies, the essential from the accessory, to move from principle to application, from the conquest to the exercise of power.
After 15 months in existence, we have decided to give priority to in-house training, which will be rolled out locally throughout France. We are making available to our federations an à la carte programme with broad guidelines: the defence of our identity-based roots, the fight against lawless immigration and wokism, the reindustrialisation and revaluation of work, good management of public spending, the strengthening of the authority of the State, and with a strategy, the union of the right and the refusal to oppose the « elites and the people ».
We are fortunate to have found all the skills and expertise within our movement to provide these training courses. This human capital is one of our great strengths.
We will, of course, regularly bring in outside speakers, as we are doing this evening with Mathieu Bock-Côté, as we did at our last UDT with Éric Nauleau, Elisabeth Levy and Jean Sevillia, and as we did at our conferences, one on extreme left-wing violence with Thibaut de Montbrial and Andy Ngo, the other on legalising euthanasia with several French, Belgian, Canadian and Dutch doctors and experts.
These conferences were just the first in a long series. We are committed to being an ideological compass in the French political landscape.
I'd like to thank Éric for his confidence in us, and I'm well aware of his commitment to debate and ideas.
With Reconquête! and its Institut 2050, we are determined to influence the future of our country. Because never forget: the future is not what happens next, it's what we do next.