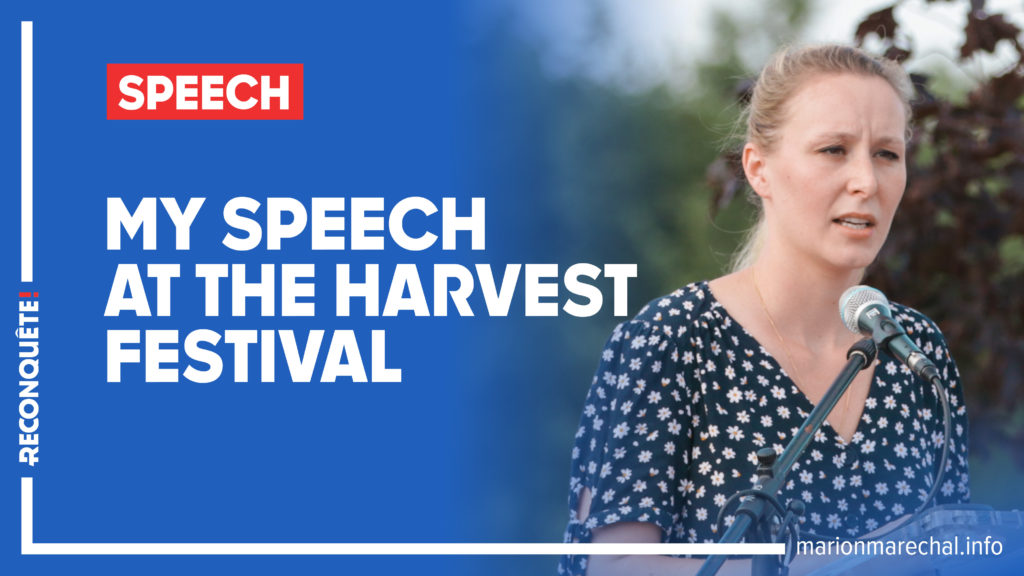 8 JULY 2023
Only the spoken version is authoritative
—
Dear friends from the Rhône-Alpes and Auvergne region, dear "reconquerors",
It's a great pleasure to be here with you at the end of this political year, here in the Rhône département, not far from the capital of Ancient Gaul, the cradle of Christian and French civilisation, born of the genius of Rome and the pain of the martyrdom of Saint Blandine.
****
I'd like to thank you for organising this Harvest Festival, and I'd like to take this opportunity to wish all our farmers and workers a good season of harvesting. I know how often they feel abandoned, and even marginalised. I want to tell them, on your behalf, that we are supporting them. We are well aware of the quality of their work. We will wage a relentless battle at the ballot box to defend them. France should further produce and eat French food. We have to win the battle for agriculture.
For our part, unlike our beloved farmers, we are not yet at harvest time. At Reconquête! we are sowing. We are sowing seeds of hope, seeds of lucidity, seeds of courage in the souls, minds and hearts of the French people. We don't expect the harvest to be for ourselves, but for the French people to come.
We are sowing for the future. We are therefore acutely aware of the value of the countryside. This magnificent land of France where generations of French people lie buried, this land gorged with the blood of the valiant and the sweat of the industrious! This is the tomb of our ancestors and the cradle of our children, too.
If there are so many of us here today – let's just say there are more than one thousand of us on this first Saturday of the harvest season – it's because we are deeply scared: we have got the feeling, that this land of ours, is slipping away from us. If we don't act, it could eventually be snatched away from us.
****
We have a name for this fear: the Great Replacement.
The Great Replacement is not a theory, it is a prophecy. A prophecy in the process of being fulfilled, the effects of which we are looking at every day.
Yes, we see what is happening while the government looks away. I'm thinking of the Minister of Interior, Gérald Darmanin, calling the rioters Kevin and Matteo, just to let us believe there is no immigration problem. I'm thinking of Jean-Luc Mélenchon or Sandrine Rousseau who talk about « social revolt » and poverty to justify the attacks, the destructions and the burning of French flags.
We listen, while they turn a deaf ear. I'm thinking of Emmanuel Macron, President and all-round champion of welcoming migrants, even though a very large majority of French people are calling, in poll after poll, for a drastic reduction in immigration.
We speak when they remain silent. I think of all those professional gaggers. « No amalgam », they ordered us yesterday. « No recuperation », they tell us today. Move along, good people, there's nothing to see behind the insults, assaults, rapes, murders and attacks that punctuate your daily life.
The sweet France of my childhood has turned a Clockwork Orange, and they'd have us believe it's just a « news item ».
They want to protect the guilty and make our hearts insensitive to the suffering of the victims, but we will never resign ourselves to burying innocent people who should never have died.
Yes, our lives are worth more than their denial. These politicians are the extremists of denial: the denial of immigration, the denial of submission, the denial of Islamisation, the denial of the corruption of the real, the true, the beautiful and the just.
We are committed to this: we will continue to say out loud what the politicians only say in hushed tones.

****
« How can we avoid partition? Because that's what's happening: partition », François Hollande cowardly whispered to a few indiscreet journalists as he opened wide the doors of our country.
Unlike them, we are not afraid of words. We owe the French people this truth. Yes, partition will be our sad future if we don't act.
We must make our compatriots realise this: partition is the forced abandonment of part of a territory under the pressure of people and events.
This means that, tomorrow, millions of us could be orphaned, forced to leave our home village. We would have to abandon our family cemetery to the weeds, because living together has become impossible.
We will have to accept that part of France no longer lives by French rhythms, tastes, sounds, memories and dreams. Then there will be no more seeds, no more sowing, no more harvesting.
This is what will happen if we continue on the path laid out by our governments for decades.
That's what's on the horizon between now and 2050 if the French, by blood and by heart, become a minority on their own soil.
The riots are already playing out before our very eyes.
This insurrection is also a territorial war.
Many young people from immigrant backgrounds want to fight against the French state.
Rolling back the State, attacking the police, wiping out the billions that the Republic has invested in its neighbourhoods – for the rioters we tend to call "the scum', this is a way of saying that France has no value for them and has no place in what they now consider to be their « home ».
« Who could have predicted? » dares Emmanuel Macron. His naivety is astounding, his inaction criminal.
We had planned ahead. Éric Zemmour had foreseen it. And more than ten years ago, when I was the youngest Member of Parliament in France, I foresaw and warned.
All you had to do was love France, believe in France and see what was really going on.
Yes, France's vital prognosis is at stake and France is in mortal danger. On one side, tens of thousands of rioters – 100,000 to 200,000 according to former chief of intelligence service Pierre Brochand, as he told us in a remarkable interview with Figaro Magazine. On the other side, 45,000 policemen and gendarmes mobilised, the police élite units ( Raid and Gign) called in as reinforcements, more than 700 police officers injured. As a result: more than 12,000 cars burnt, more than 10,000 fires and rubbish bin fires, more than 400 tobacconists, more than 400 bank branches, more than 200 shops and more than 150 post offices destroyed, 269 attacks on police stations and barracks, 243 attacks on schools and 105 town halls burnt down. Gérard Dézempte, mayor of Charvieu-Chavagneux, who is here today, knows all about it. So does Bernard Jamet, the Reconquête mayor of Sannois.
There have also been numerous acts of violence and assassination attempts against elected representatives, gendarmes, police officers and firefighters. Our security forces are hounded from their homes and now live in fear for the lives of their husbands, wives and children. Forced to hide their address and live far from their place of work. Gratuitous beatings of citizens and even, as we learned yesterday, gang rape.
45,000 members of the forces of law and order were deployed, compared with 12,000 in 2005. Despite this we had three times as many people injured and five times as many buildings damaged in 4 days as in 21 days of rioting in 2005. Testimonies from the field have come back to us from all over, alerting us to the lack of ammunition and, above all, to the fact that we are being overwhelmed.
There is another terrible observation to be made. For Rudy Manna, spokesman for the Alliance Sud police union, interviewed by CNews, the riots were stopped because drug traffickers wanted to make business again. It's not just the Republic that has restored order, but also narcotraffic.
We have seen that the state is no longer capable of defending people and property. What do you think will happen when the next riot breaks out?
They'll do anything to make you look the other way or cloud your head with the explanation that it's got nothing to do with immigration, that it's just a bunch of misbehaving, daddy-less minors.
We will never forget. We will never accept. We will never submit.
****
Because after the riots of 2005 and 2023, our absolute duty is to avoid the next ones, which will be a thousand times worse if we do nothing. I will not be an accomplice to those who pretend that nothing happened.
We cannot accept losing part of our home.
We cannot afford to despair.
Millions of us are aware of what is at stake and are ready to vote and take action.
Because where there is a Redouane Laktim, there is also an Arnaud Beltrame.
When there's an Abdelmasih Hannoun in Annecy, there's a Henri.
When a rioter sets fire to the building housing a 77-year-old woman, policeman Mick comes to her rescue, risking his life.
And my dear friends, when there is Lola, there are hearts that weep and French people who rise up.
Because we have a path to redemption and the solutions to reverse the trend.
This solution is zero immigration and comprehensive francization.
That's the challenge: to refrancise France, to make our country France again through schools, culture, education, authority, pride in our roots and an end to colonial repentance.
Along with Éric Zemmour and Reconquête, I am proposing zero immigration by setting up a genuine migration shield:


****
First of all, my dear friends, we will abolish family regrouping of foreigners on our soil, we will challenge the acquisition of the French citizenship for foreigners born in France we will tighten the conditions for naturalising non-Europeans and drastically limit the number of visas they can obtain.
We will only accept a few hundred people a year who, moreover, will apply to our embassies or consulates outside the country.
We will introduce a compulsory deposit of €10,000 for visas for foreigners from high-risk countries, and we will extend the criminal definition of human trafficking to severely punish smugglers and their accomplices.
At national level, we will abolish social benefits – family allowances, housing benefit, minimum income – and free healthcare – AME – for foreigners. The regularisation of all illegal immigrants will be banned, and we will use diplomatic and financial pressure to force countries to take back their migrants.
We will once again make illegal residence a criminal offence and apply the doctrine of « whoever breaks the law pays », even if this means cutting off welfare benefits.
I will put an end to judicial impunity. Rioters aged 16 and over must be punished as adults and systematically brought before the courts.
We will also introduce a presumption of self-defence for the police. While the rioters are using Nahel's death to delegitimise any police action in their neighbourhoods, looting and destroying without consequence, excusable self-defence must be applied to French people defending themselves against an intruder in their home.


****
Then, I really mean it , we will launch a major remigration plan: yes, the remigration of people on S files, delinquents, criminals and long-term unemployed foreigners to their country of origin. Yes, the remigration of those who have violated the eternal and universal laws of hospitality.
Finally, we will put an end to the system of « unaccompanied foreign minors », who are causing an explosion in delinquency in major cities, and we will finally test the real age of migrants.
How can we expect our country to be respected around the world when we welcome to Normandy Osama Bin Laden's son, who has just been indicted this week for apology for terrorism?
How can we expect our country to be respected in the world when we silently accept Algeria's moral lessons based on false assumptions about the fate of Algerian citizens in France?
Need we remind you that Algerians are the nationality most represented in French prisons? 42% of their citizens in France have no activity and live off French workers, Almost half of them live in council housing at taxpayers' expense. France should not be "their day nursery". This Algerian government should start by taking back its illegal immigrants and delinquents, and stop using France as a front for their incompetence. It is high time to put an end to the Franco-Algerian preferential immigration regime.
How can we expect our country to be respected in the world when the first instinct of our leaders, Ms Pécresse and Elisabeth Borne in particular, is to announce the payment of several million euros to the housing estates after the 200 billion spent on urban policy over the last 40 years? Budgetary appeasement doesn't work. How many billions more before we realise it?
Let's not mince words: it's immigration, yes immigration above all, and the counter-society that stems from it, that is the main cause of this insurrection.

****
I am here today, with you, in front of you, to tell you that we can still change the destiny of our country.
I am here today, with you, in front of you, to tell you that our sons and daughters have the right to grow up and live in civil peace: for them, for you, more than ever, I want France to remain France.
I'm not saying it will be easy, I'm saying it is possible and together we can do it.
And very soon in Brussels, we will be standing alongside our Italian, Polish, Hungarian and Swedish friends to say that the European Union's primary mission must be to protect our civilisation, not to let it flood in! Yes, we want a Europe that is no longer concerned with distributing migrants but with sending them back!
The task is huge, the challenge no less daunting, and I know that many of us are sometimes tempted to give up.
But let us look behind our shoulders at the procession of those who died so that we could be free.
If the French of 1356, 1870, 1917 or 1940 stood firm, we must not give up.
As long as there is life, there is hope.
As long as there are French people who love their country, there is a way out.
As long as there are children of France, as long as we give birth, as long as our pushchairs keep "sailing" and as long as there are faithful and valiant French heirs to pick up the flag, then nothing is lost and everything can begin.
Long live Reconquête, life will prevail, hope will win, long live the French, long live France!